Are you ready for one of DC's largest spectator events? Every year, more than 1.5 million visitors from around the world travel to the District to witness a transformation — the annual blooming of the cherry blossom trees.* Gifted to our nation's capital by Mayor Yukio Ozaki of Tokyo in March 1912, more than 3,000 cherry blossom trees bring an explosion of life to the city and are celebrated with a series of events that are primarily FREE and open to the public. This year's National Cherry Blossom Festival will take place on March 20 to April 12, 2020 and we're here to provide you with all you should know before you go!**
*The cherry blossoms are expected to hit peak bloom between March 21-24, 2020.
**Festival event changes due to the health crisis can be found here. In light of the recent circumstances, the National Cherry Blossom Festival has launched a new virtual experience to bring the spirit of the blossoms to you and provide a way to enjoy springtime together, while being apart.
Getting to the cherry blossoms doesn't have to be a burden and there are several ways to join in on the fun at the Tidal Basin and other official events. To make it easy, we've partnered with the National Cherry Blossom Festival to bring you a FREE guide to get to the blossoms, including:
Travel options to signature events

Transportation choices to the National Cherry Blossom Festival and official Welcome Centers

National Mall monuments and memorial locations
Below are our recommendations for getting to the top destinations:
Tidal Basin
The DC Circulator's National Mall route provides direct access to the blossoms at the Tidal Basin. Hop off at stops 6, 7 or 8 to tour the blooms, or continue on the route for unparalleled access to the National Mall's Smithsonian museums. The nearest Capital Bikeshare stations to the Tidal Basin are Jefferson Dr & 14th St SW, 17th St & Independence Ave SW, Ohio Dr & West Basin Dr SW/MLK & FDR Memorials, and Jefferson Memorial/Ohio Dr. Capital Bikeshare rides start at just $2. Download the Capital Bikeshare app for current bike and station availability.
Take in the view from the river with the DC Water Taxi! Board at Georgetown's Washington Harbour or at the Tidal Basin. Tickets are available at dc-watertaxi.com.
To access the Tidal Basin by Metrorail, take the Orange, Blue or Silver lines to Smithsonian Metro station or L'Enfant Metro station. Yellow and Green lines can also be used to reach L'Enfant Plaza Metro station.
You can also get there by scooter -- a popular alternate transportation option now available in the District. Find them conveniently located everywhere throughout the city and download the operator app to unlock. Visit our scooter webpage for information about current operators, pricing, safety tips, and rules.
WELCOME AREA / ANA PERFORMANCE STAGE
1501 Maine Ave SW
The ANA Airlines Performance Stage will host a series of daily performances during every weekend of the festival from 10am to 6pm.
Take the Orange, Blue or Silver line to Smithsonian Metro station, or take the DC Circulator's National Mall route and disembark on 15th St NW by the Washington Monument.
The nearest Capital Bikeshare stations are located on the National Mall near the Washington Monument at Jefferson Dr & 14th St SW and 17th St & Independence Ave SW.
The OPENING CEREMONY
Warner Theatre - 513 13th St NW
The Opening Ceremony will take place on Saturday, March 21 from 5pm to 6:30pm, at the Warner Theatre.
To get there, take Metrorail's Red, Orange, Silver or Blue line to Metro Center.
The nearest Capital Bikeshare stations to the theatre are 14th & D St NW/Ronald Reagan Building, 10th & E St NW, and 15th & Pennsylvania Ave NW.
Take the DC Circulator's National Mall route to disembark on Constitution Ave NW and then walk a short distance to the Warner Theatre.
THE BLOSSOM KITE FESTIVAL
Washington Monument - near 15th St and Constitution Ave NW
Anyone can participate in the Blossom Kite Festival! Just bring your kite to the grounds of the Washington Monument on Saturday, March 28 from 10am to 4:30pm.
The Blossom Kite Festival is accessible by Metrorail's Orange, Blue and Silver lines — the Smithsonian Metro station is closest to the event.
DC Circulator's National Mall route services the entire Mall, with direct stops along 15th St NW.
Capital Bikeshare stations are also located on the National Mall near the Washington Monument at Jefferson Dr & 14th St SW, 17th St & Independence Ave SW, and 15th & Constitution Ave NW.
PETALPALOOZA
Capitol Riverfront, 355 Water St SE
The inaugural Petalpalooza will have its outdoor extravaganza on Saturday, April 11from 1pm to 9pm at an exciting new location in DC's fastest-growing neighborhood, the Capitol Riverfront.
This year's Petalpalooza will feature live music on multiple outdoor stages, interactive art installations, a beer garden, family-friendly activities, and a highly anticipated fireworks show along the banks of the Anacostia River.
Capitol Riverfront can be accessed by Metro's Green line to Navy Yard Metro station. You can also get there by taking DC Circulator's Eastern Market - L'Enfant Plaza route or Congress Heights - Union Station route.
Taking Capital Bikeshare? There are three stations nearby: Potomac Ave & 8th St SE, 3rd & Tingey St SE, and 4th & M St SE.
THE NATIONAL CHERRY BLOSSOM FESTIVAL PARADE
Constitution Ave NW from 7th to 17th St NW
Giant colorful balloons, elaborate floats, marching bands and performers from across the country will put on a show at the annual National Cherry Blossom Festival Parade (rain or shine) on Saturday, April 4 from 10am to noon. Tickets are starting at $20 for Grandstand Seating.
Non-ticketed attendees may take Metrorail to the free viewing portions of the parade between 9th and 15th St NW:
To stand on the north side of Constitution Ave, take the Green or Yellow line to Archives-Navy Memorial-Penn Quarter Metro station or the Blue, Orange, Red or Silver line to Metro Center.
To stand on the south side, take the Blue, Green, Orange, Silver, or Yellow line to L'Enfant Plaza, or the Blue or Orange line to Smithsonian Metro.
DC Circulator's National Mall route also serves the parade route via the stop at Madison St NW.
There are several Capital Bikeshare stations within walking distance of the parade route.
*Ticketed attendees should consult their tickets for directions to their assigned seats.
AS YOU EXPLORE THE CITY...
Go for a spin on Capital Bikeshare! The shiny red bikes are a DC-area icon and there are hundreds of stations located throughout the city and along the National Mall. goDCgo encourages you to use Bikeshare to shorten the distance between Metrorail and festival events. To sweeten the experience, Capital Bikeshare will offer FREE Corral Service on the National Mall during select festival weekends. Corral Service offers guaranteed open docks by having staff on-hand to remove bikes when the station's docks are full.
Where: Jefferson Dr & 14th St SW
When:
March 21-22: 11am - 6pm
March 28-29:

11am - 6pm

April 4-5: 11am - 6pm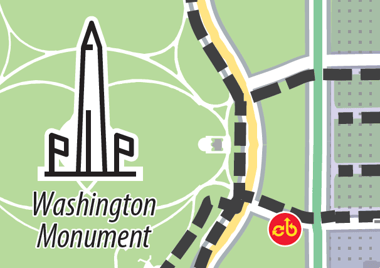 Visit CapitalBikeshare.com for single-trip and 24-hour passes or download the app for passes, as well as real-time bike and dock availability.