The Washington Metropolitan Area Transit Authority (WMATA) announced that between Sunday, December 17, 2018 and Monday, January 8, 2018 service changes will be implemented on 12 Metrobus routes in Washington, DC to improve service frequency and on-time performance.
New 59 Limited Stop Route from Takoma Metro to Federal Triangle Metro
Starting Monday, January 8, 2018, a new MetroExtra limited-stop route, Route 59, will be added along 14th Street NW between Takoma and the Federal Triangle corridor. This new route will run buses approximately every 15 minutes in the morning and evening rush hours on weekdays and will stop every 10 to 12 blocks on average. Due to its less frequent stops, the route will allow commuters along the priority corridor of 14th Street NW to get to downtown DC faster using buses and further improve transit-accessibility in the District.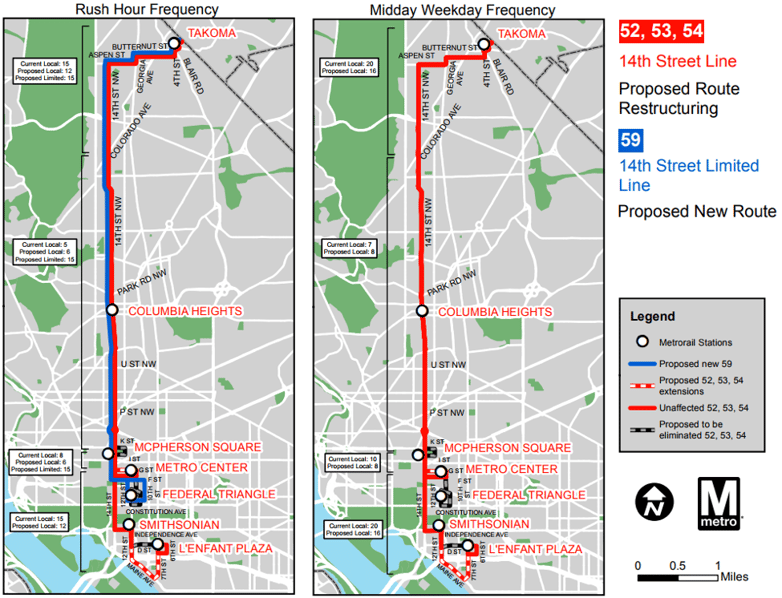 Other bus service changes affecting Washington, DC are posted here. If the 59 Limited will not affect your travel behavior, check out the ten bus lines around Washington, DC that every commuter should know how to ride.
Still unsure of your commute? Contact info@goDCgo.com and challenge us with your commute! We'll work with you one-on-one to map out your most time-effective and sustainable route!