Now that we've entered peak move-in season, it's a great time to welcome your new residents with transportation information to get acquainted with the neighborhood. When residents move to a new home, they must figure out new commutes to work, local travel options, and how they'll run errands. All of these trips lead to the overall happiness and satisfaction of residents in their new home. As the saying goes, "location, location, location," so help your residents be confident in their choice by providing transportation information, and highlighting the travel options that are easily accessible from your community.
Here are some FREE resources provided by goDCgo:
Get Around Guide

Ideal for move-in packets, goDCgo can create a customized Get Around Guide with information specific to your community. This one-page summary features a snapshot of local transit options near your building.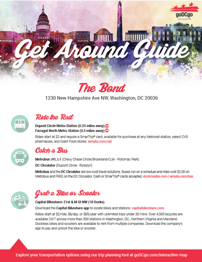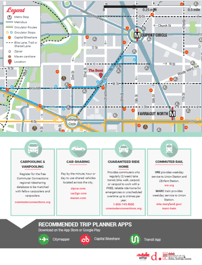 Brochure Ordering

In addition to the Get Around Guide, brochures for specific modes are great to include in resident move-in packets. You can order FREE print guides and maps by mail here.
Web Links

Provide links to maps, schedules, and transit information and options on your resident portal.
Grow a Culture of Sustainability:
On-Site Support

Designate a staff member as a transportation coordinator for your property. There is nothing more valuable than an on-site champion who can inform residents about the best travel options to get around.

On-Site Amenities

Encourage your residents to use the on-site amenities available to them (transit displays, bike rooms/racks, etc.). Your residents and their guests will appreciate the additional amenities that make traveling sustainably convenient and easy.

Host an Event

Invite goDCgo to host a Commuter Social with transportation information and/or a fun transportation scavenger hunt to explore the area. Residents will have the opportunity to meet staff and their neighbors, creating relationships that bring value to the place they call home.
Show your residents you care about their needs and want to help them feel comfortable in their new home. As always, goDCgo is here to help as you open your doors to new residents!