Now that students have recently returned to school, we want to make sure you know about all the ways they can get there -- for FREE! The Kids Ride Free (KRF) transit subsidy program allows students to ride the Metrobus, Metrorail, and DC Circulator to school and school-related events and activities within the District at NO COST. Have questions? goDCgo has the answers! Review the frequently asked questions (FAQs) below for more information.
Who's eligible?
To be eligible for the KRF program, students must meet the below criteria:
Resident of the District of Columbia.
Ages 5 through 21; kids ages 4 and younger can already ride free on public transit.
Enrolled in an elementary or secondary public, charter, private, or parochial school located within the District, or youth in the care of the District.
Are private school and home school kids eligible?
Yes, as long as the families and children reside in Washington, DC. They have a different process, however, and must email transit.subsidy@dc.gov to obtain a card.
How can a student get a card for the new school year?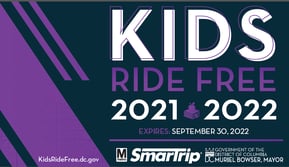 A supply of the school year 2021-2022 Kids Ride Free SmarTrip cards will be sent directly to all DC public and charter schools for distribution to eligible students. Starting this September, you can make a request from the school ID administrator at your local school. They will have direct access to a supply of pre-loaded SmarTrip cards as well as enrollment lists for their respective schools. If this is your first time requesting a card, note that new students will be given first priority at their schools to pick up KRF SmarTrip cards. Please surrender any old KRF SmarTrip cards to your school ID administrator.
Are last year's cards still valid?
The previous school year KRF SmarTrip cards will remain valid through the end of September. However, once the new school year 2021-2022 KRF SmarTrip card is picked up, the previous card will be deactivated and will no longer work on fare machines.
How is the card used?
The KRF SmarTrip card MUST be tapped at the fare machine upon entering the bus or in and out of the Metrorail fare gates. Flashing the card is not permitted. Students riding Metrobus, Metrorail, or DC Circulator should always have their KRF SmarTrip card with them or be prepared to pay the regular fare for their trip.
What's the process to replace a lost card?
If a KRF SmarTrip card needs to be replaced, students will need to request a new one from their school ID administrator (located at their respective school). The lost card will be reported to WMATA and will be deactivated. You will not be charged for a replacement, but must pay the regular fare to ride Metrorail, Metrobus, and DC Circulator until the new card arrives.
I'm afraid of my child taking transit alone. Are there any programs that can help?
Absolutely! You could arrange a local transit pool where students residing in your neighborhood can gather and take the Metrorail, Metrobus, or DC Circulator together to school -- acting like a "buddy system."
There's also SchoolPool by Commuter Connections, which helps families within the same neighborhood connect with each other to form carpools, walking groups, or biking groups to and from school.
What about adults that attend adult charter schools?
There is a separate Adult Learner Transit Subsidy program for students age 18+ who are enrolled in District education programs that have been approved by the Office of the State Superintendent of Education (OSSE). This program provides eligible adult learners with a $70 monthly transit benefit that can be used on Metrorail, Metrobus, and the DC Circulator anywhere within the District of Columbia. The subsidy amount is disbursed to enrolled SmarTrip cards for eligible adult learners at the beginning of each month.